Established in 2014, the Pathfinder's Award recognizes individuals who have contributed significant service to helping men and their families deal with prostate cancer. See below for previous winners and their ceremonies.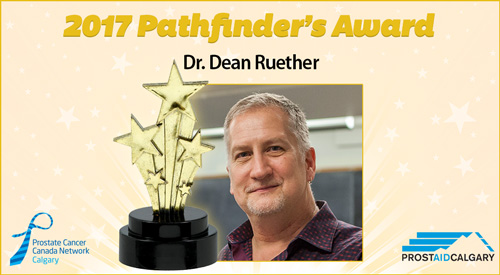 The 2017 recipient is renowned Calgary oncologist Dr. Dean Ruether. Dr. Ruether is a Medical Oncologist at the TBCC who has worked in the GU program for over 20 years. His undergraduate training was done at the University of Calgary and medical school completed at the University of Alberta.  Post graduate training in internal medicine, hematology and medical oncology was completed at the University of Calgary with focus on Clinical Trials in GU, Endocrine and Neuroendcrine malignancies and Patient Education. He is an active member of the Medical Oncology training program, serves on a number of administrative capacities, as the Lead for local tumour group teams and is responsible for bringing clinical trials for the Endocrine and NET and Prostate patient population in Alberta.  Dr. Ruether is also the current Medical Director, Community Oncology, CancerCare Alberta for 4 regional and 11 community sites whose directive is to bring cancer care closer to home for Albertans.

In previous leadership roles for the local and provincial GU and Endocrine & Neuroendocrine programs in Alberta, Dr Ruether played a pivotal role in bringing clinical trials for patients affected by GU and Endocrine malignancies to Alberta.  Results of some of these trials have changed practice in both of these subspecialty areas of oncology. Dr Ruether has also been involved in a series of clinical trials looking at the benefits of providing consultation recordings to patients affected by GU, Breast, CNS and Neuroendocrine tumors.  Results of these trials have been instrumental in establishing a consultation recording service in Cancer Care Manitoba and work to establish a similar service as part of standard operations is underway here in Alberta. As the Medical Director for Community Oncology, Dr. Ruether has been successful in obtaining funding from the ACF to support the development of the necessary clinical infrastructure needed to provide access to clinical trials in 3 of our 4 regional cancer centers. Dr. Ruether has been involved as the local principal investigator in multiple phase 2 and 3 trials in the GU, Endocrine, Breast, and malignant hematology as well as a phase 1 trial in bladder cancer over a career spanning 22 years and is coauthor on more than 50 peer reviewed publications that have come out of participation in clinical research trials.
Dr. Ruether was awarded at the Kerby Centre in Calgary on December 10th. A large gathering at the venue and abroad via Skype were all there to congratulate a gracious and deserving winner.